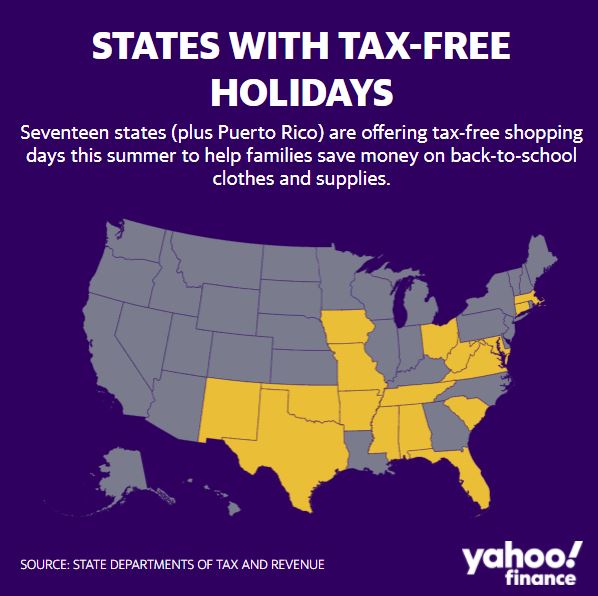 With back-to-school shopping just around the corner, many states are offering tax-free shopping days or weekends.
Alabama kicks off its three-day tax holiday starting July 16, with 16 other states and Puerto Rico following suit later this summer, offering consumers anywhere from two days to a week to make tax-free purchases.
"This gives consumers a little bit of an extra bang for their buck," Diane Yetter, founder of the Sales Tax Institute, told Yahoo Money. "People could save 6-9% on clothing and school supplies for back to school."
The average cost of back-to-school clothes and supplies will run $268 per child, according to KPMG's Back to School 2021 survey. Footwear and school supplies are anticipated to be the biggest areas of back-to-school costs for families.
"Originally it only applied to clothing and usually was limited to about $100 per item, then they expanded into things like school supplies, backpacks, and then started including computers and tablets as more schools started requiring that as part of school supply purchases," Yetter said.
Here are the states participating in tax holidays. It's important to double check that the county you live in is participating in your state's tax free holiday.
Tax holiday dates: July 16 - July 18
What's tax-free:
Clothes up to $100 per item

Computers, computer software, and school computer supplies under $750 in a single purchase

School supplies up to $50 per item

Books under $30 per item
Arkansas
Tax holiday dates: August 7 - August 8
What's tax-free:
Clothes up to $100 per item

Clothing accessories up to $50 per item

Electronics used by a student (cell phone, computer, calculator, etc.)

School supplies, art supplies, and instructional materials
Connecticut
Tax holiday dates: August 15 - August 21
What's tax-free:
Clothes up to $100 per item
Florida
Tax holiday dates: July 31 - August 9
What's tax-free:
Clothes and accessories up to $60 per item

School supplies up to $15 per item

Computers and computer accessories up to $1,000 in total
Iowa
Tax holiday dates: August 6 - August 7
What's tax-free:
Clothes up to $100 per item
Maryland
Tax holiday dates: August 8 - August 14
What's tax-free:
Clothes up to $100 per item

Backpacks up to first $40 of item
Massachusetts
Tax holiday dates: August 14 - August 15
What's tax-free:
Any retail items $2,500 or less
Mississippi
Tax holiday dates: July 30 - July 31
What's tax-free:
Clothes and school supplies up to $100 per item
Missouri
Tax holiday dates: August 6 - August 8
What's tax-free:
Clothes up to $100 per item

School supplies up to $50 per purchase

Computer software up to $350 per purchase

Computers up to $1,500 per purchase

Computer accessories up to $1,500 per purchase

Graphing calculator up to $150 per purchase
New Mexico
Tax holiday dates: August 6 - August 8
What's tax-free:
Clothes up to $100 per item

Computers and tablets up to $1,000 per purchase

Computer software up to $500 per purchase

School supplies up to $30 per item
Ohio
Tax holiday dates: August 6 - August 8
What's tax-free:
Clothes up to $75 per item

School supplies and instructional materials up to $20 per item
Oklahoma
Tax holiday dates: August 6 - August 8
What's tax-free:
Clothes up to $100 per item
Puerto Rico
Tax holiday dates: July 16 - July 17
What's tax-free:
School uniforms

School supplies
South Carolina
Tax holiday dates: August 6 - August 8
What's tax-free:
Clothes

Clothing accessories

School supplies

Computers, software, printers, and printer accessories

Select bed and bath linens

No dollar value limits on any items or purchases
Tennessee
Tax holiday dates: July 30 - August 1
What's tax-free:
Clothes and school supplies up to $100 per item

Computers and tablets up to $1,500 per item
Texas
Tax holiday dates: August 6 - August 8
What's tax-free:
Clothes, school supplies, and backpacks up to $100 per item
Virginia
Tax holiday dates: August 6 - August 8
What's tax-free:
Clothes up to $100 per item

School supplies up to $20 per item

Hurricane and emergency preparedness products, varying from $60 to $1,000 per item

Energy Star and WaterSense products up to $2,500 per item
West Virginia
Tax holiday dates: July 30 - August 2
What's tax-free:
Clothing up to $125 per item

School supplies up to $50 per item

School instructional materials up to $20 per item

Laptops and tablets up to $500 per item

Sports equipment up to $150 per item